Pontypridd, South Wales
| | |
| --- | --- |
| John Evans (aka Billie Black) - Vocals | Mike Kennedy (aka Scrot Rot) - Guitar* |
| Kevin Evans (aka Spider) -Bass | Carlos de Freitas (aka Steve Interest) - Drums |
* Replaced by Wayne Jones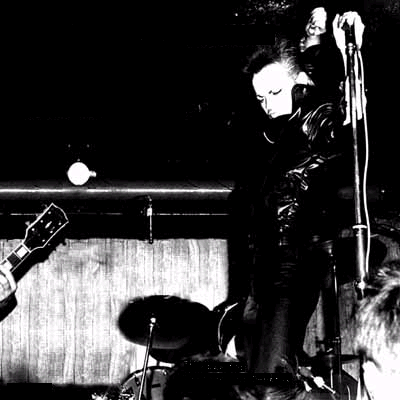 John Evans live on stage at "Dingwalls", London 1978
South Wales' Tax Exiles were formed at the end of 1976, taking their influences from across the Atlantic as much as the new domestic punk bands. "All the members of the Tax Exiles were heavily influenced by American garage bands like MC5, Stooges, Pere Ubu, Seeds, Velvet Underground, etc," Evans told me. "We were a group of working class kids who couldn't relate to the music being churned out in the UK at that time, especially the prog rock from bands like Yes, Pink Floyd, Barclay James Harvest etc. We felt the harsh, abrasive industrial music of those American bands suited our lives and our landscape and we'd all evolved our own distinctive style of dress - a mix of early American punk, and with a touch of style influence from the only bands we could relate to here, like Bowie and Roxy Music."
They caught the Pistols playing at Caerphilly on their Anarchy tour on 14th December 1976 and later the Clash, having met Joe Strummer before a show in Cardiff. "On the first Clash tour they headlined [the White Riot tour] I bumped into Joe Strummer in Cardiff and took him for a drink in one of the only pubs I was allowed in at the time (dyed hair and ripped clothes weren't popular around town). It was a very rough pub called The Greyhound, whose patrons consisted entirely of meth-drinkers, alcoholics and residents of the local Salvation Army hostel. I remember the uncomfortable look on Joe's face when we first walked in, but he soon warmed to what was actually a very friendly atmosphere - the people didn't give a shit about how you dressed. After I saw him backstage after the gig, he thanked me for taking him to that pub, because he said it reminded him of "what it was all about". I met most of the punk big names around in '76 and '77, but without doubt Strummer was one of the most genuine, down to earth and intelligent of the lot. There was no pose, the man was the embodiment of what punk proclaimed itself to be."
He was less enamoured of the way the Pistols conducted themselves. "After going to see Iggy Pop at the Rainbow, Finsbury Park, in 1977, I called in at the Roxy. There were very, very few people there - myself and two friends, two hippies, a few girls - but Lydon, Steve Jones, Sid Vicious and a couple more people I didn't recognise were gathered in the corner (I later learned they'd come from the studio where I think they'd been working on Never Mind the Bollocks). Lydon was up to his usual antics - being intimidating to the two hippies etc. Anyway, later I was upstairs in the club, and one of the hippies came up holding his head with blood gushing down his neck and face. I guessed what had happened. It was confirmed when Lydon later came upstairs, looking for further trouble. He seemed to be looking for the hippie and was wandering around with that mad stare in his eyes. My friends and myself watched slightly bemused, that first one of their crowd had bothered to pick a fight with a rather pathetic looking hippie, but why they were pursuing the guy further? Now, having grown up in the mining valleys of South Wales, both myself and my two friends weren't strangers to a bit of trouble, and we weren't known to back down to anyone or anything, but given the fact that Lydon was one of our heroes, we just watched. Later, when we left the Roxy, we found Lydon and his crowd all gathered around two girls sitting on a car outside the club. Lydon said to one of the girls, 'If it wasn't for me you'd still be into Roxy Music.' To which the girl replied, 'I still am!' Then, for some strange reason, Sid Vicious decided to pull out the chain he'd been wearing as a belt around his jeans and began to swing it around his head, presumably attending to attack the girls. 'Heroes' or not, for us valleys boys our good old fashioned working class conditioning clicked in, hitting a hippie was one thing, but hitting a woman was a definite no-no, and we started mouthing at Vicious and Lydon and co, who to be fair had now also all started to try to restrain Sid. Anyway, they didn't seem to want to fight three fairly fit guys of the same age and they all headed up the street, with the sounds of our offers of a fight following them up the road. A strange night indeed. I never had much time for Sid. He seemed to believe the hype. Whenever I encountered him he was always mouthy (mainly towards tourists) and I actually think he believed he was 'vicious'."
The Tax Exiles' live debut came at the Roxy audition night on 23rd August 1977, alongside the Speedometers and Crabs. Parts of the show were filmed by a visiting Canadian TV crew. They went on to put in appearances at Dingwall's, returning to the Roxy to support Adam and the Ants and the Zips, and were also stalwarts of local venues like the Top Rank in Cardiff, often as support to visiting bands including X-Ray Spex, 999, Sham 69 and the Rich Kids. They were exceptionally popular throughout South Wales, and boasted strong travelling support. "Although the Tax Exiles were definitely much lesser known," Evans says, "we were actually quite good. And at the time we played to big audiences in Wales - most punk bands touring here would ask us to support because they were guaranteed a big crowd. I remember we completely outplayed EMI's 'hot new act' The Rich Kids. In the early days of punk the Tax Exiles' audiences were often hostile to the way we looked, and our music, and much to our audience's surprise, often we'd actually end up fighting with them midway through our set. We gradually evolved an image of being a band worth going to see because something unexpected would happen, often a fight. We became so infamous that before we were allowed to play with the Rich Kids, EMI rang our manager to promise we'd behave and presumably to check we wouldn't do anything to them. We also played most of the London venues at that time. I was around the early-pre-punk London scene and got to know most of that crowd. I remember watching Generation X's very first gig at the Roxy in the company of Malcolm McLaren & Vivienne Westwood. Both were very nice people. There was often a spirit of bonding back in those early days, a feeling of us against them."
Their early repertoire encompassed versions of the Velvets 'Waiting For The Man' and 'Violence' by Mott The Hoople, alongside originals such as 'Rough In The Valley' (a kind of Welsh punk national anthem), 'Attack And Destroy' and 'Miracles'. These songs and others were issued on home-made cassettes for sale to fans. "Two of the most popular Tax Exiles' songs both reflected a particularly South Wales valleys message and content, although they were equally relevant to other post-industrial areas in the UK. 'Rough in the Valley' basically said there was nothing here - no prospect of employment except down the mine, nothing to do accept go to a pub or working men's club and wait to get old, and so we wanted out. The other song, 'Miracles', was about how we were all brought up with religion and were forced to attend strict chapels when we were kids, and now faced with the reality of life in Britain in the mid-70s we could no longer relate to the stories we were told there - 'I don't believe in miracles, or stories with a happy end/life . . . is . . . no-one's friend'."
They featured on a BBC Wales documentary in 1978 playing two live songs, while interviews with the band and their fans were also taped and broadcast. Sadly, this never translated into any kind of recording contract and the band broke up in 1978, having come close to securing a support tour with Talking Heads in the US.
On his return to Cardiff Evans formed a new band, including Phillip and Stuart Moxham, who would later form the much loved Young Marble Giants. When this didn't work out he elected to record solo under the name John Marlon. The backing band for his solo ventures included former Tax Exile Carlos de Freitas on percussion. The group's guitarist, Nigel Buckland, later achieved some notoriety as the presenter of the Vids TV show for Channel Four. Signed to Beggars Banquet's Situation 2 in 1981, he subsequently released the single 'Sister Soul'.
However, since the early 90s Evans has worked as a full-time writer and filmmaker, a "post-punk type of art, an apocalyptic vision, an orgy of disgust,' according to his website. He is the editor of books including Black Harvest - Contemporary Poetry from the South Wales Valleys, Out of the Coalhouse - New Writing from the South Wales Valleys, and Mogg Williams -Selected Works. His films include the 1996 short Industria (also the title of a book) and the graphic novel G.B.H. (1996) and How Real Is My Valley – Postmodernism and the South Wales Valleys (1994). That's not to mention his contribution to birdwatching – The Red Kite In Wales (1991).
"I was a punk, and I still am a punk. My ideas haven't changed at all. As a writer today, I'm proud when anyone describes my work as punk, or post-punk, or any of those related terms. And I still feel most empathy with people who still embody that spirit - and often they are people who were also a part of that punk rock movement, like Lydia Lunch. I still much prefer to do things myself - like set up my own publishing company. It's the only way you get to make sure your work doesn't get watered down, and you don't have to compromise for the money men, the men in suits."
The Tax Exiles finally hit vinyl in 2005 when Low Down Kids put out a demo version of 'Miracles', recorded in a garage in Cardiff in 1978, out on their Lathe Cut Singles series.
Discography: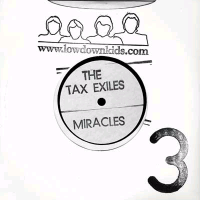 Miracles 7-inch (Low Down Kids LDK 45-3 March 2005
At our last gig there the audience was very different. Punk had become a fashion, a mainstream - bondage trousers in high street shops! The crowd then was comprised of people who thought "being a punk" was what they'd read about, and learnt from the tabloid newspapers - they all had to spit, their clothes had become a uniform, there was no longer that individualism, there was no longer that feeling of "community" - they were becoming everything we rebelled against! At that final gig, the band that was on before us had been canned off-stage. I decided to open with one of our most unusual songs - a very slow atmospheric song called 'Miracles', which had me reciting the words like a poem, while the music was nearer experimental music of John Cage than this particular audience had been told by the newspapers was "punk rock". Anyway, it worked, there were no more cans - for all of our set, they listened to our lyrics, they danced along to our faster songs.
John Evans Remembers the 'Roxy Club'.
Thanks to Alex Ogg for the above article which was taken from his

book "No More Heroes".

Thanks also goes to John Evans, Mike Kennedy and Wayne Jones.
©Detour Records