TRASH

Weybridge & Reading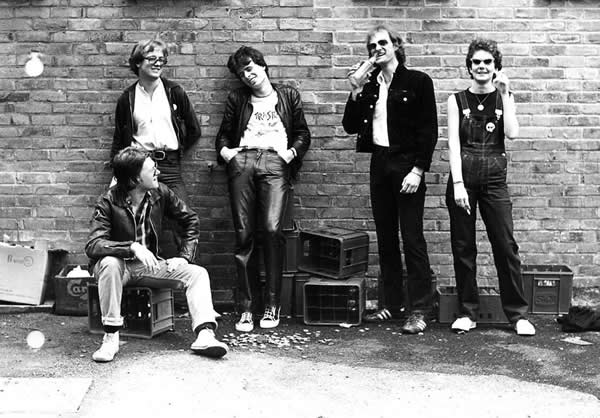 October 1976
Simon Wright - Vocals

Jane Wimble - Vocals

Keith Steptoe - Bass

Mick Brophy - Guitar, Harmonica & Backing Vocals

Steve Pearce - Drums*
*Replaced by 'Brian Devoil' & then by 'Simon Butler-Smith'.
The Trash Story 1976 – 1980
Growing up in suburbia during the mid-1970s was a Dull experience, leavened by occasional flashes of excitement – Roxy Music at Guildford Civic Hall, the Pink Fairies at Epsom Baths. So going to college seemed a really good idea, particularly when I realised our tiny Food Technology college in the middle of super-snotty St Georges Hill, Weybridge was full of people who were equally nuts about music. By October 1976 rehearsals were underway in the college hall: Mick Brophy (guitar, harmonica, backing vocals), Keith Steptoe (bass), Steve Pearce (drums) and co-lead singers Simon Wright and Jane Wimble. The Food Technologists would have been a great name for a band but instead we went for Trash, partly because of the New York Dolls song but possibly because we thought it would put us beyond further criticism (how wrong we were).
None of us had been in a band before but by pooling our record collections we found songs simple enough to attempt, using the approach that 3 chords = good, 4 chords = jazz. This theory received massive confirmation when an unbooked Sex Pistols played support at one of our college dances. Jane and I followed them to the 100 Club Punk Festival and the Screen on The Green allnighter, hugely impressed by their back-to-basics approach. The Jam at the Red Cow, Elvis Costello at the Nashville, Buzzcocks at the 100 Club – we sucked it all in greedily. Mick began writing songs, and we started taking Trash more seriously. Jane bailed out at this point so by early 1977 we were a 4 piece. And then we were offered a record contract. It was the post-Pistols feeding frenzy and we looked the part – short hair, fast songs, little discernible talent. Clive Selwood – ex-head of Elektra UK and John Peel's manager – was a fellow Weybridge resident. His daughter Bee had seen us terrorising some local hop and Clive wanted us sign to his production company Sara Bee. Clearly we needed experienced management, but we went for fellow-Food Tech Tony Bellekom. The prospect of full-time rock stardom was too much for Steve, so Brian Devoil (a mate of Tony's) was brought in to replace him. Technically Brian was an improvement –Steve's drum rolls had an exciting uncertainty to them – but Brian's heart was not really in our hard, fast and simple music.
A brace of gigs at the Nashville supporting 999 failed to flush out any better offers and we signed to Polydor via Sara Bee in August 1977. This coincided with a move to a communal house in Reading, near the free rehearsal facilities and 'plus support' possibilities offered by the University where Tony had Connections. Having either left or been thrown out of college we were free to gig more regularly whilst we worked out what should be on the all-important first single. Recorded at the Old Smithy, Worcester in September 1977 and produced by no-one in particular 'Priorities' escaped from Polydor in November 1977. Polydor's art department had come up with the infamous 'Porky And The Wingnuts' front sleeve and someone had sped up the master-tape to make us sound more exciting. Good reviews from Record Mirror and Sounds plus a couple of plays from a gerrymandered John Peel were not enough to generate sales.
We retired to lick our wounds to a second, sleazier communal house in Reading. Located in Zinzan Street the intention may have been a carefree Monkees-like existence but the only furry connection was the rats that lived in the front room (with the slugs). Unsurprisingly Zinzan Street was demolished when we left. Living on the governments Musician Support Fund (ie signing on) left Mick time to write his magnum-opus, a Townshend-style rock opera called 'Carrots' which never got out of the rehearsal room. We played gigs at Reading clubs like Bones (for some reason always supporting the Lurkers) and before venturing further afield to High Wycombe (with Wire, who were startling) and even as far as Sheffield Poly where we were videoed by the Fine Arts Department (anyone got a copy?)
A key feature of our live act was Marie-Clare, off-on paramour of Mick and full-time agent provocateur. Dancing in front of the stage and always wearing less than anyone else she proved a big draw in her own right. Marie-Clare was totally convinced of our talent – more so than us – and even edited the Trash fanzine 'In On All the Secrets', named after one of Mick's catchier compositions and mailed to the entire Trash fan club every month.
Brian left to go prog with Twelth Night, with whom he had some success. An advertisement in Melody Maker found Simon Butler-Smith, the son of a vicar in nearby Rotherfield Peppard. Not only was he a fantastic Keith Moon style drummer but we could practice at the Rectory and he had an attractive sister. Our friend Nick Duckett reviewed us playing at a party in his garage, upgraded the venue to The Garage and sent it in as a review to the NME who published it in February 1978 – our first and last press. Nick concluded "if the band are able to overcome the obstacle of the fact that they seem to have no readily marketable image at present, they could well go far." We took Nick's words to heart and started appearing on stage wearing all white clothing and using only white light whilst performing in front of a backdrop based on an 1920 illustration by Lissitzky 'Beat the Whites with the Red Wedge'. The backdrop was painted by roadie John The Finn, later to disappear in mysterious circumstances amidst rumours he was working for the CIA.
There was much excitement at Trash Mansions in February 1978 when we received a telegram from Clive saying we were booked into posh Roundhouse Studios…with Shel Talmy producing. That's the same Shel Talmy who had produced all the Who and Kinks singles in our battered record boxes. Mick took up a rough demo of our intended next single N-N-E-R-V-O-U-S and Talmy tore it to bits, re-arranging it to bring out the hooks and generally sprinkling some fairy dust over the song. This time we did the artwork ourselves , using the Lissitzky backdrop and contorting ourselves to fit it. However even Shel Talmy could not prevent the single vanishing without trace on release in June 1978. Polydor didn't pick up their options so that was the end of Trash.
Or was it? I read in NME that the Who were looking for a band to play in the film Quadrophenia and sent in a cassette of the four Polydor recordings, renaming us The Dudes for the occasion. On September 25th we played three numbers in front of Roger Daltrey and John Entwistle in the Electric Ballroom in Camden High Street. We lost out to Crosscut Saw, despite including our most mod-dy cover (Fontella Bass' Rescue Me, once a showcase for Jane Wimble). However we did get a note from Pete Townshend where he described N-N-E-R-V-O-U-S as 'bloody great'.
We gave it one last go. My parents lived near Surrey Sound Studios in Leatherhead, the studio where Nigel Gray had recorded all the early Police hits. I somehow blagged some free studio time. Mick was by now living in Manchester where he had formed a new band called the Cheaters and he recruited his new lead guitarist Neil Kosser. An expanded five-piece Trash rehearsed (or possibly just drank) at the Food Tech college in Weybridge where it all had began before recording two tracks 'In On All The Secrets' and 'What Do You Think About That?' in the middle of the night. I thought they were marvellous, the best stuff we'd ever recorded but the studio saw no future in them. And then we were done.
Postscript – Never Made It
Never Made It (NMI) was the brainchild of Clare Evans, who late in 2004 put up notices in record shops reading "Artist seeks photos / videos / memorabilia for exhibition tribute to bands that never made it." Her aim was to 'put the underdogs of the music industry in the limelight and celebrate all that was not to be'. Over a drink in Highgate's Boogaloo bar it was quickly decided that Trash met Clare's criteria and so Simon excavated as many photos and bits of memorabilia as he could find.
The next step was to make a documentary of three of the least successful bands in the exhibition – The Secrets, The Trespassers and Trash. Accordingly Simon and Mick were interviewed on camera by Clare at Simon's office in early 2005. On May 2nd 2005 the Notting Hill Arts Club staged the opening night of Clare's Never Made It Exhibition. Photos and memorabilia were displayed throughout the club. Beautifully made badges and fanzines were on sale. Clare showed the 18-minute Never Made It documentary for the first time, to a great reaction from those present. Coincidentally Nude magazine has run a series of features on unsuccessful bands titled "Beautiful Losers', with issue 8 (Spring 2006) featuring Trash and Never Made It
Simon Wright, March 2010
©Detour Records