VARICOSE VEINS

(FROM THE ROCHDALE / MANCHESTER AREA)

Circa 1979
| | |
| --- | --- |
| IAN PEARSON aka JESUS - VOCALS | MARK WHEATLEY aka BORIS - GUITAR |
| MARK CREST aka TOOTHPASTE - BASS | BURT BLADDER - DRUMS |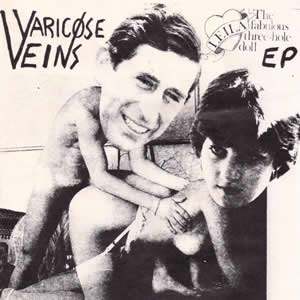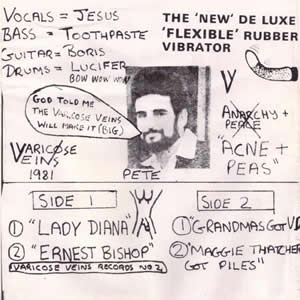 THE FABULOUS THREE HOLE DOLL EP
Lady Diana / Ernest Bishop / Grandmas Got VD / Maggie Thatcher Got Piles
Catalogue Number - ???
Label - Varicose Veins Records
Year Of Release - 1981
Quantity Pressed - 0
A very obscure and short lived Punk combo from the Rochdale / Manchester area. Apparently 'Ian Pearce', the vocalist was from Rochdale but the Bass player 'Mental Toothpaste' (his last name was actually Crest and this is where his nickname came from) had Toothpaste painted on his right hand arm of his leather jacket and Manchester Punks on his back.
'Varicose Veins' formed in late 79 in the Manchester area, a 7" single was planned. Rumours say it was released in a pressing size of ONLY 100 copies (see email update). We can not confirm this as we have never seen a copy but a fellow collector knows of some one who has a copy. He states "I did see these pressings but at the time of me seeing them, no picture sleeves had been made so I was promised one of them as soon as the covers were printed, sadly as time passed I lost contact with the band". Around 1980, the Manchester Police issued posters in a bid to catch the Yorkshire Ripper (or possibly the 'Black Panther') I cant remember which exactly. Ian somehow ended up with a large amount of these posters which he used to autograph and give away to fans of the band.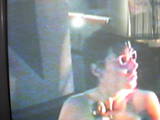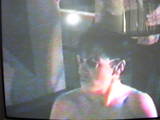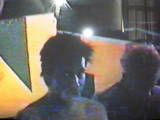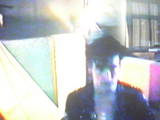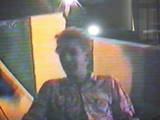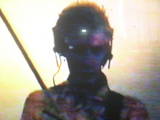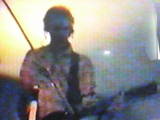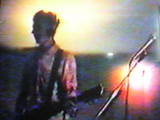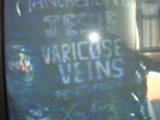 The above colour shots were taken from a private video recording made by the band in Oct / Nov 1980, this was shot in a cellar in poor lighting conditions. The video lasts for about half an hour and ends with the band being interviewed. The first four photos are of the lead singer, Ian. The next four are of the guitarist, Boris and the last one is the back of the lead singers leather jacket.

The above 8 photos are from the same private video, the first four are of "Toothpaste" and the last 4 are of "Burt Bladder".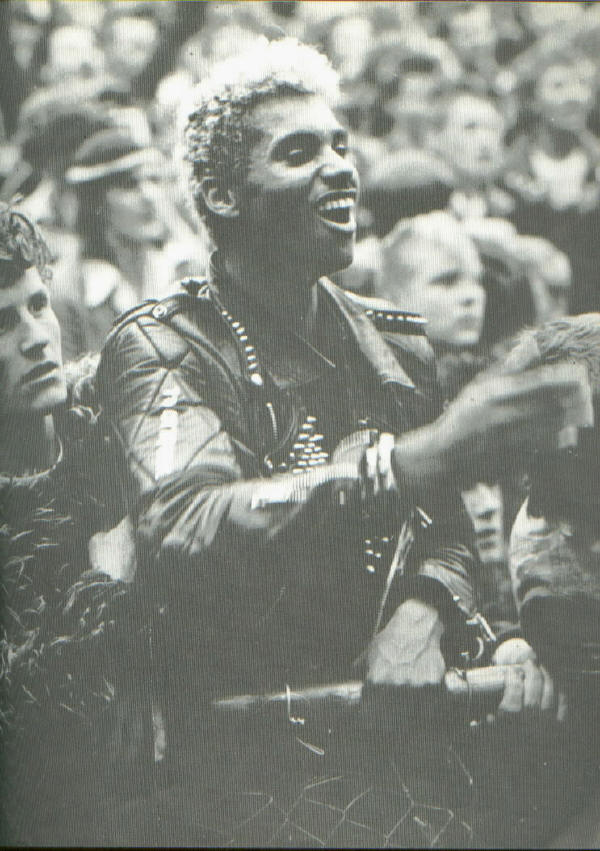 Above is a photo of the Bass player 'Mental Toothpaste' in the crowd at a CND benefit gig in 'Alexander Park', Manchester on 8th of August 1981...On the bill were 'Hawkwind', 'The Damned', 'The Freshies' & 'John Cooper Clark'.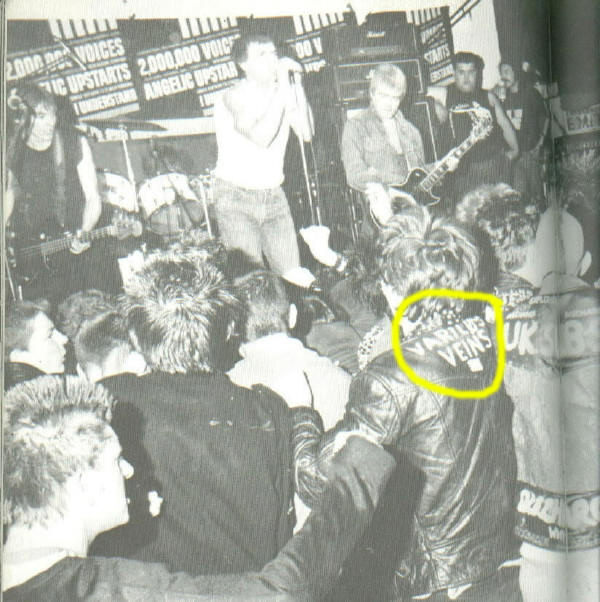 Above is a photo of 'The Angelic Upstarts' playing in Manchester in 1981 to promote their "2,000,000 Voices" album. In amongst the audience there's guy with 'Varicose Veins' painted on his leather jacket.
Thanks to Eamon Dawson for the above information.
©Detour Records