MARTIN AND THE BROWNSHIRTS

Chester
Above is an original 8" x 10" Black & White Promotional photograph from "Tabitha Music Ltd" from 1978.

(Above photo taken by 'Geoff Paddock')
| | |
| --- | --- |
| Norman Graveney - Vocals | Addy Adams - Bass |
| Paul Urmston - Guitar | Willy 'Wet Eye' Williams - Drums |
UK Pressing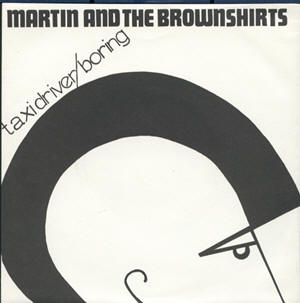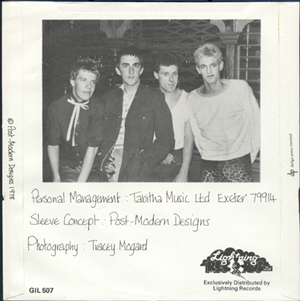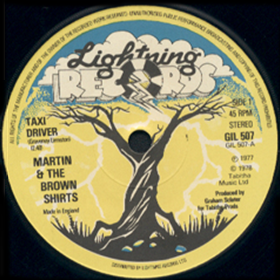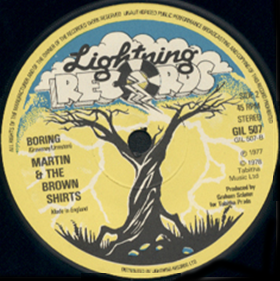 Taxi Driver / Boring
Catalogue Number - GIL 507
Label - Lightning Records
Year Of Release - 1978
UK Acetate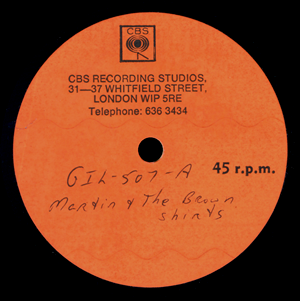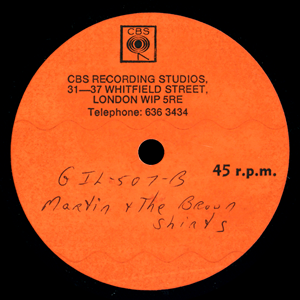 Above is the original Double Sided 10" Acetate for the bands debut single that 'Graham Sclater" had

cut at the "CBS Recording Studios", London in 1978.
Belgian Pressing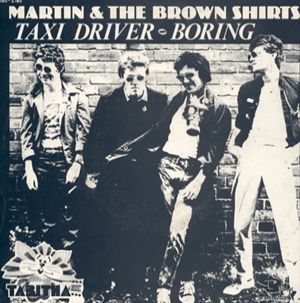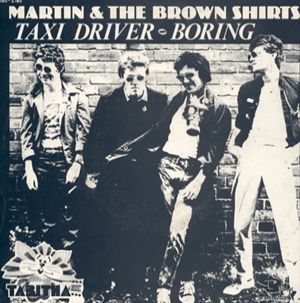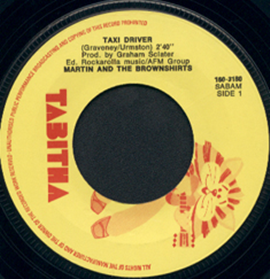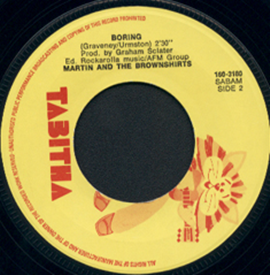 Taxi Driver / Boring 7"
Catalogue Number - 160-3.180
Label - Tabitha
Year Of Release - 1978
Their Manager Reminisces
Alongside Horror Comic and Dirty Dog, Martin And The Brownshirts were part of a Lightning Records roster that were but a blip on the punk radar screen – but of the three acts the Brownshirts did manage one fantastic punk 45, 'Taxi Driver'. "We saw the film together the week it came out. Next day we wrote the song in about 10 minutes,"
From Exeter, music publisher and producer, Graham Sclater, an organist touring Germany in the 60's and who'd once jammed with Hendrix, managed them. In his role as publisher he'd turned down 'The Birdie Song', as did just about everyone else, as well as Daniel Miller's first, pre-Mute project, The Normal. He runs Tabitha Music, which issued the classic 'Taxi Driver' single which saw it released in the Uk and Belgium.
They'd hooked up via Graveney's girlfriend, who designed the single's sleeve. Sclater put them up while they were in Exeter after recording several demos in his studio. Hopefully these tracks will see the light of day some when along with 'Small Print', 'Dan Dare', 'Janice Nicholls' & 'Piccadilly Schoolday' that were recorded at the 'Decibel' studio in Stoke Newington, London a few months later. All of which are unreleased at the moment but watch out for them on a forth coming volume of the 'Bored Teenagers compilation..... He also arranged an audition in Warrington to get the band a tour of Scandinavia – and although they impressed the promoters, "They were rebels", and never took it seriously. Nevertheless, Sclater confirms that they were model houseguests – "a nice bunch of lads".
Their first foray into a recording studio was in London to record a song that had been passed around several bands, 'Hey Punk, Punk Off' but when the producers failed to get a deal for the release of the single and the taste of a "pro" studio gave them a buzz and the encouragement to write and record their own songs, "real songs." Sclater took them into the studios to record the first of these, 'Taxi Driver' and the "B" side "Boring" - deliberately leaving their guitars untuned as a punk rock statement of intent. Both were recorded in one session at Gooseberry Studios in Gerard Street, Chinatown, not KPM Studios as has been suggested and once recorded they returned to Chester where they made use of the spare time to work on more of their own material. The closed groove 'gong' effect, actually a sustained guitar note, at the end of 'Taxi Driver' was Sclater's idea. Sadly, John Lydon, whom they'd met in a café during a break in the session, could not be encouraged to take part in the recording. A tribute to De Niro's dialogue in the film, 'Taxi Driver' was a little gem, not that it did the group a smidgeon of good. As Williams confirmed to Mojo: "I left school at 16 – two months later I was in London making a record, and two months after that we split up."
They also faced problems because of their name, which attracted the interest of the National Front, particularly at one gig at Liverpool's Swinging Apple, and another at Exeter, where members of the band were beaten up. "They did have problems," Sclater stated. "To be honest, I didn't know what the Brownshirts name signified until I was involved in an attack when I was with the band." Happier times came at the Vortex in New Years Eve 1977, where Marianne Faithful popped into their dressing room to express her admiration.
The group decided they'd had it with punk and became Co-Starz, a more power-pop based assemblage. They recorded 12 new tracks at Decibel Studios in Tottenham at a session originally scheduled when they were the Brownshirts. "Norman was always ahead of trends," reckons Sclater, "he just wanted to move on from punk." Graveney and Williams went on to form the Montellas, touring America with Was (Not Was) and recording an album for Arista in 1988.
Graham Sclater
July 2003
| | |
| --- | --- |
| | |
| Norman Graveney live at "Boxes", Exeter 1977. Just check out his Dentist outfit! | Posing at the "Vortex", London on Monday 2nd January 1978. |
| | |
| --- | --- |
| | |
| Norman & the boys trying to hail down a taxi outside the "Vortex", London on Monday 2nd January 1978. | How much....? We will write a song about you!!! Norman and the boys trying to negotiate a price outside the "Vortex", London on Monday 2nd January 1978. |
Willy Williams

Norman Graveney

Addy Adams

Paul Urmston

If my memories serves me well this shot was taken outside some seedy sauna in Soho where we recorded 'Taxi Driver', we were probably having a break, I know this because of that home made prison outfit I have on, and the sprayed black kiddies ball to look like a ball and chain. Written on the back was, "working in a Siberian forced labour camp can be mighty thirsty work drink Seven Up". Willy
Willy Williams

Addy Adams

Paul Urmston

In Exeter in 1977 down with their manager.
Willy Williams

Norman Graveney

Willy Williams

"In the studio in Soho recording Taxi Driver"

In Exeter in 1977 when the band went down to play at "Boxes"
Addy
Willy
Norm
Paul
Live at the "Roxy Club", London on Thursday 27th October 1977 playing along side 'The Outsiders' & 'The Nipple Erectors'.
Special thanks to Willy Williams & Graham & Denise Sclater.
©Detour Records