Accrington
First Issue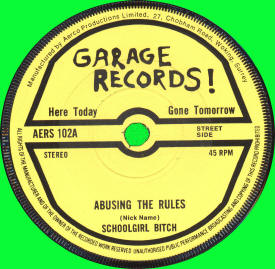 Abusing The Rules / Think For Yourself
Catalogue Number - AERS 102
Label - Garage Records
Year Of Release - 1978
Quantity Pressed - 1000 in total
Out of the 1000 copies, 975 were split between the first picture sleeve and the second picture sleeve. Saying this though, a lot of copies were sold without a picture sleeve as the band had none made up at the point of sell or basically had run out of them as each copy was individually hand made and took quite a while to make up. Also, the above sleeve shows the A-Side as "Think for yourself" and the B-Side as "Abusing the rules". This can easily be spotted as the bands address was on the "Abusing...." side. However, the labels showed "Abusing the rules" as the A-Side.
Second Issue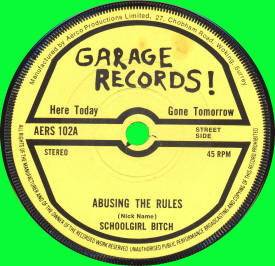 Abusing The Rules / Think For Yourself
Catalogue Number - AERS 102
Label - Garage Records
Year Of Release - 1978
Quantity Pressed - 1000 in total
The above sleeve was designed when the band re-located to London. All the original artwork was left behind and sales were poor due to the fact that most record shops found it easier to stock and sell Punk records with a good sleeve (especially relatively unknown bands). So 'Nick Name' took it upon himself to come up with a fetching design. And what a brilliant job he did!!!! You will also notice that the Accrington address had been dropped as the band were now in the big smoke!
Third Issue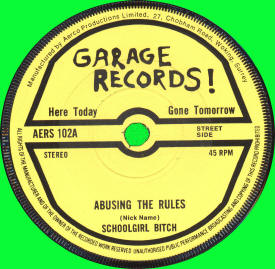 Abusing The Rules / Think For Yourself
Catalogue Number - AERS 102
Label - Garage Records
Year Of Release - 1978
Quantity Pressed - 1000 in total but only 25 copies had this sleeve
The above sleeve was designed in 1996 when Detour Records had tracked down 'Nick Name' and he knocked up a new picture sleeve when he found 25 copies of the single under his bed (so to speak) so that he could sell us the remaining copies!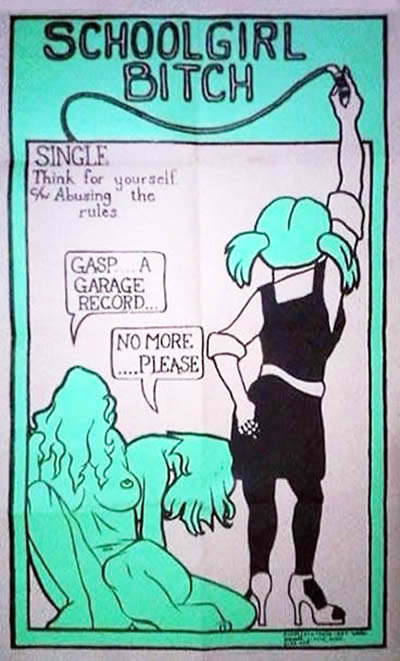 Rare Original 38cm X 61cm Promotional Promo Poster for 'Think For Yourself' / 'Abusing The Rules' from 1978.

The above single review appeared in Scottish fanzine "The Next Big Thing" #7 from the summer of 1978.
In Autumn 1976 'Blitzkrieg Bop' by 'The Ramones' was the first Punk record to really grab 'Nick Name' and 'Phil Serious' (known officially as 'Nigel and Phil McHugh respectively). The 'Sex Pistols' hype machine also attracted the pair, but it was in April 1977 that the debut 'Clash' LP 'The Clash' hit 'Nick Name' like the FINAL SOLUTION. Suddenly everything made sense and everything seemed possible! 'SCHOOLGIRL BITCH' came out of this inspiration against a backdrop of adolescent depression and hopelessness. The name was coined by 'Phil Serious' after splitting with his girlfriend who at the time was still at school.
Through 1977, fuelled further by the 'Sex Pistols' Jubilee fiasco, the group, now a 3-piece completed by 'Kid Sick' on the drums, played at Youth Clubs and Rock Venues in the North West and even managed to get banned by Blackburn Council for a brief spell. They supported such acts as 'The Boys', '999', 'The Boomtown Rats' at the local venue 'The Loadstar'.
In late 1977, a record was cut in Manchester 'Chaos Studio', 'Phil Serious' worked in 'Mullards' Electrical shop, Blackburn to earn enough money for pressing the vinyl. The record 'Abusing the Rules' and 'Think For Yourself' eventually hit the streets around March 1978 by which time 'Phil Serious' had decided being an anti-hero wasn't for him!
'Nick Name', desperate to carry on, recruited 'non-musician' 'Nigel Talbot' from an ad' in the Lancashire 'Evening Telegraph'. Re-named 'Evil Doctor Talbot', partly because he looked like 'Sid Vicious'. 'Nick Name' taught him to play Bass lines from the single in two days. The band built up a set which began to sound more and more like a Punk version of 'Jimi Hendrix'.
In September 1978 after the bands last Northern gig supporting White Reggae band 'China Street', the 'Doctor' and 'Nick' went to try their luck in London leaving 'Kid Sick' behind. The 'Doctor' only managed to stay until Christmas before splitting back up North to Accrington. 'Nick Name' continued in London recruiting 'Griff Johnson' on Bass and 'Gabby Shearman' on Drums. They played gigs supporting 'The Thompson Twins' and 'The UK Subs' in and around London.
Becoming more and more disillusioned 'SCHOOLGIRL BITCH' finally split after being threatened with legal action over their name by the management of two bands, 'Girlschool' and 'Bitch'. That was the end. The SCHOOLGIRL BITCH had been out bitched.....their career ended in March 1979!!!
As for the single, two original different picture sleeves exist. The first being the hand sprayed Blackmail lettering type sleeve. This was the first issue and was made while the band were still in their home town of Accrington. Then when the band relocated to London, 'Nick Name' still had a pile of unsold singles all of which didn't have the sprayed painted sleeve so he decided to make a new design up giving him more of a chance to sell his remaining copies. This was the in-famous Gas Mask picture sleeve. This sleeve was made up in the last few months of 1978.
Wait for it......The story doesn't end there!! in 1996, Detour Records managed to track down 'Nick Name' while still living in London and he still had a box of 25 singles under his bed. He agreed to sell us these remaining singles and knocked up a third sleeve. This time it featured the Queen's head on one side and the in-famous Gas Mask was used on the reverse. Even though this third sleeve was made up some 18 years after the initial one was made, only 25 copies of this new sleeve exist and was made by the man himself!!!! A rarity of the future? Only time will tell.
Also, there is a demo tape out there some where which the band recorded in late '77 or early '78. It contains the tracks 'Smashing The System' / 'What's In Store' / '18 Year Confusion' / 'Pollution' / 'Lust For You'. Sadly the band members haven't got a copy of this tape...could the tracks be lost forever???
An unreleased track as just been unearthed by one of Nick Name's old friends who he hasn't seen for years. It was one of the last tracks to be recorded by 'Schoolgirl Bitch' and is titled "Heading For The City".
Nick Name 1998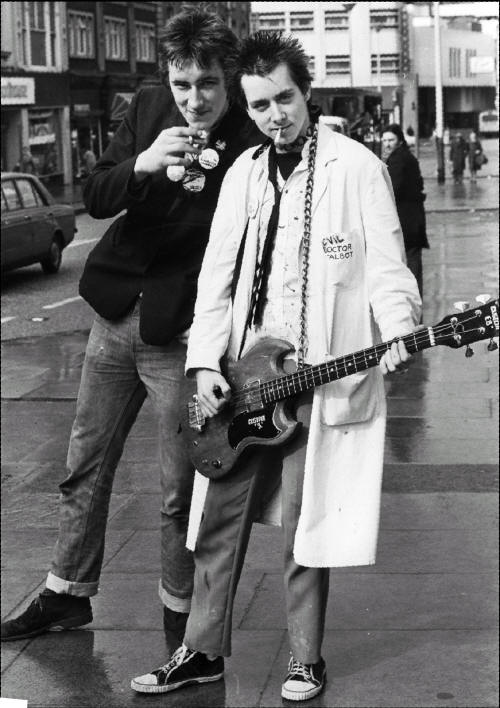 "Nick Name" & "Evil Doctor Talbot" posing on Blackburn High Street, 1978.

This picture was taken by 'Frank Walsh' and appeared in the 'Lancashire Evening Telegraph' in 1978.

Above is the original news paper cutting from 1978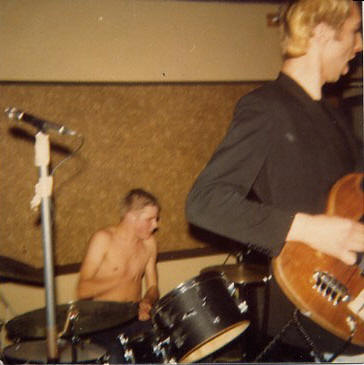 'Live at Barnoldswick Youth Club some time in 1977'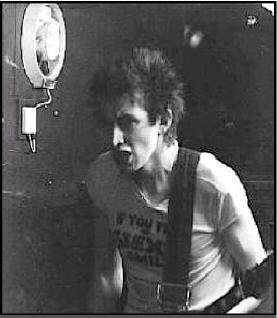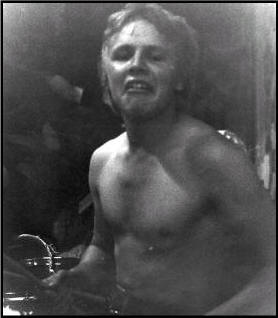 | | | |
| --- | --- | --- |
| Nick Name", Giving it large, 1977 | | "Kid Sick" Living up to his name!, 1977 |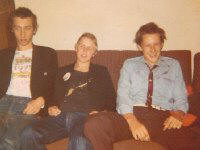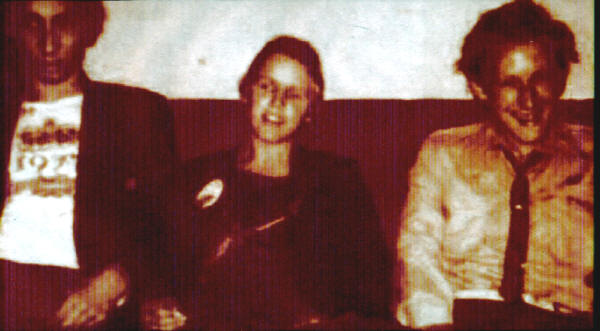 | | | |
| --- | --- | --- |
| "Phil Serious" | "Kid Sick" | "Nick Name" |
| | |
| --- | --- |
| | |
| "Kid Sick" '77 | "Phil Serious" '77 |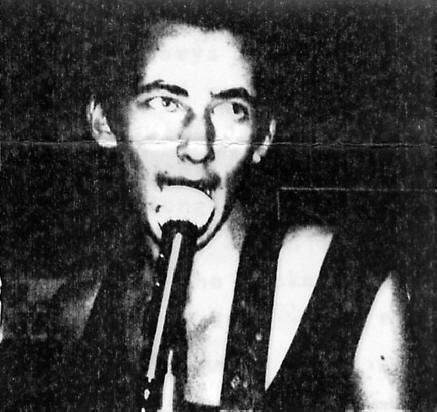 Nick Name in 1977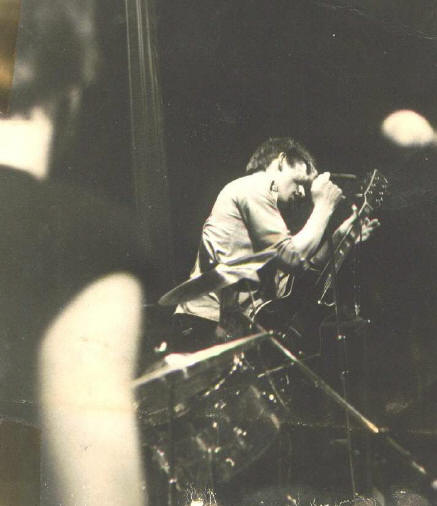 'Schoolgirl Bitch' live at

Oswaldtwistle Town Hall 1978 supporting 'China Street'.

This was to be the bands last ever gig!
| | |
| --- | --- |
| | |
| 'Schoolgirl Bitch' live at Oswaldtwistle Town Hall 1978 supporting 'China Street'. | Nick Name + Doc Talbot in dressing room with a member of 'China Street' |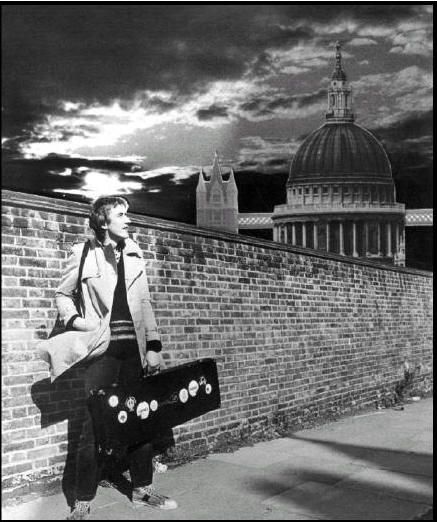 'Nick Name' arriving in London, September 1978
By March 1979, 'Schoolgirl Bitch' was all over....It wasn't long before Nick Name moved onto his next project. He formed a band called 'The Influence', less Punk and took the sound of the more up and coming Mod / New Wave sound that was sweeping the UK at the time. A eight track demo tape was recorded but sadly none were released. The tracks were:
House Full Of Thieves
Killing Time
She Walks Through Walls
Self Made Prison
Once Again...
Heading For The City
All these tracks tracks were recorded over a period of 1979 / 1981.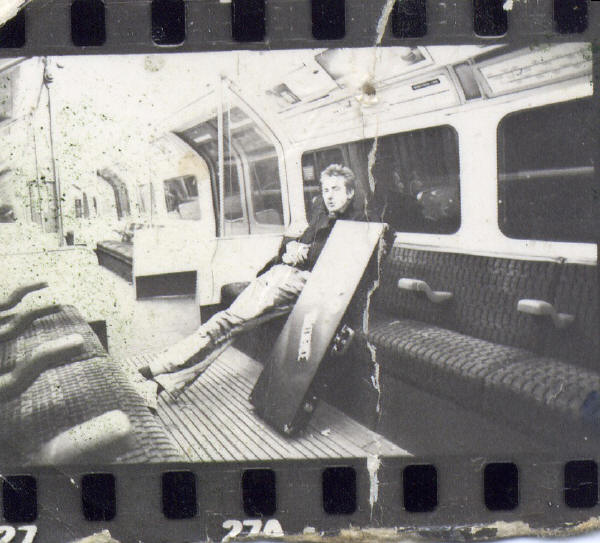 Off to rehearsals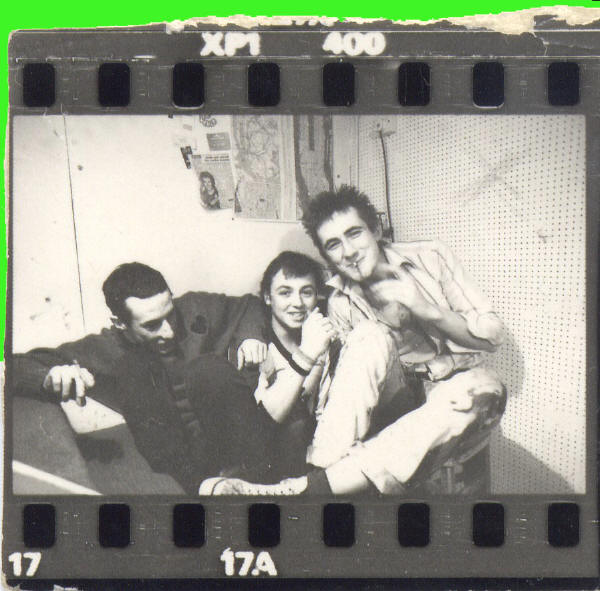 | | | |
| --- | --- | --- |
| Joe Cooper - Bass | Gabby Shearman - Drums | Nick Name - Vocals / Guitar |
'Chilling Out at the 'Halligen's Band Centre', Holloway Road, London 1980 just after recording the first ever tracks as ''The Influence'. Gabby (in the centre) was the last ever drummer for 'Schoolgirl Bitch', replacing 'Kid Sick' when the band re-located to London.
2004
On a previous conversation with Nick Name he told us that he met young girl at a Fruit & Veg stall in London that her Dad owned who told him that she was interested in becoming a singer. After a while they became friends and Nick took her under his wing (So to speak). He introduced 'Mandy Dolan' to one of his mates who was thinking about starting a label. Mandy changed her name to 'Eleanor Rigby' and went onto to release several singles and an album on the 'Waterloo Sunset' label before disappearing out of the limelight!!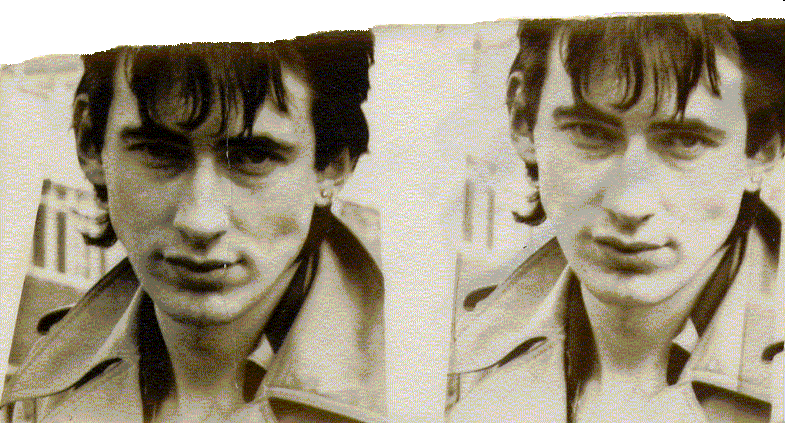 Nick Name in 1982
©Detour Records