| | | |
| --- | --- | --- |
| Bradford | | Bradford |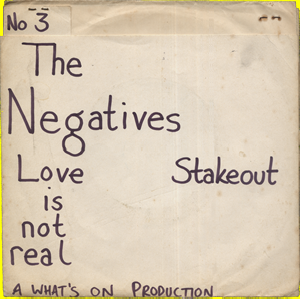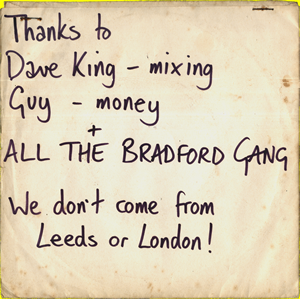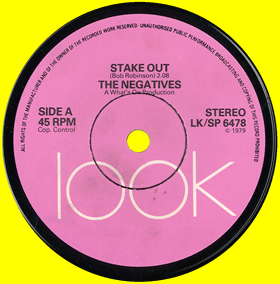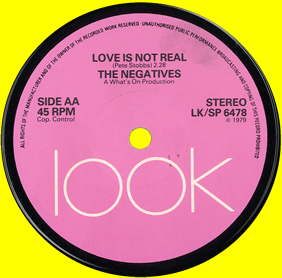 Stake Out / Love Is Not Real
Catalogue Number - LK/SP 6478
Label - Look Records
Year Of Release - 1979
Quantity Pressed - 500
Only the first 100 copies of this release had the sleeve. We say sleeve is a lose term as it was only a A3 piece of paper with hand written titles which was then folded around the record like the Good Vibrations records had. It then opened up like a gatefold sleeve so it had writing on the inside of the sleeve as well.
The above review for the bands debut single appeared in the Bradford "Wool City Rocker" #1 fanzine in December 1979.

The above "Love Is Not Real" review appeared in the Leicester based "Sound & Techno #5" fanzine from February 1980.
| | | |
| --- | --- | --- |
| Pete Stobbs - Lead Guitar | | Bob Robinson - Bass Guitar |
| Tino Palmer - Drums | | Dave Wilcox - Vocals |
1978 - The Punk train slowly makes it's way into Bradford station. An ad in Melody Maker from angry guitar player 'Pete Stobbs' gets drummer 'Tino Palmer. Chance meeting finds bass player (or someone who will learn), Bob Robinson. Next chance meeting finds the best Punk sneer in Bradford, 'Dave Wilcox'. That's it, let's go - The band "The Negatives" appear, Bradford's first - and best Punk band!
Practice sessions at 'Coda Music' (now gone) and first gigs - just friends, family and people passing by. Gig in tent at 'Metro '78', the council show in the summer - lot's of worried people thinking "This isn't Smokie". Attract the attention of RAR and CND locally - play lots of benefits and build crowds. Get into local fanzine 'Wool City Rocker' - not difficult as there aren't that many bands, but still, we're in print in a proper music mag.
Next stop the studio - record a demo which gets played in full on local radio station and then goes missing. Build the following even more - gigs get longer because of the number of local punk bands playing support.
May '79 - the Tories sweep into power. We sweep into York to play above the Tory offices - Bondage and Ball gowns the order of the day. Through the rest of the year we are everyone's favourite benefit band, playing Bradford, Leeds, Burnley, Keighley, Halifax, Colne and a great gig in Ilkley - Punk hotbed of the horsey set! - Where everyone came over from Bradford and walked the 15 miles home afterwards. Everyone is guaranteed a great night out whenever 'The Negs' appear in town. No real politics, no sloganeering, no posturing, no ego; just a bloody good laugh because we know we won't change the world, but we can enjoy ourselves as the world changes around us.
Support to 'Aswad' during the summer at open air RAR gig which gets stopped by the Police after violence erupts following a fight onstage. Support 'Stiff Little Fingers' at 'Queens Hall'. Support local band 'Red Eye' at 'Bradford University'. Police visit again because of damage caused to the van. Getting a bit of a reputation.......
Sweaty nights in the old 'Vaults Bar' (again gone) where we stuffed 200 - 300 into a space for 100...Meanwhile back into the studio to record the single - 'Stakeout' c/w 'Love is not real' - at the massive cost of £89.74 which this time includes a copy of the master! This one won't get lost (not yet anyway). Pressing costs paid by 'Tino's' boss - also recorded that day was 'Were from Bradford' which stayed unreleased until it appeared on 'Bored Teenagers volume 2' some 24 years after it was first recorded!!! Christmas gig booked for the 'Palm Cove Club', the local Reggae venue with great curries. Great gig, lots of floury snow, Rudolph the Red Nosed Reindeer and Special Brew...
Single pressed and ready to go on sale the day after at the 'Guy Watson' shop in Bradford.
Next day, 'Watson's' besieged by the whole Punk population of Bradford and all 500 singles sold! Radio play from 'John Peel and some interest from outside Bradford at last.
January '80 - the final gig for the local Lord Mayor's charity at Bradford University Great Hall and 'Dave' decides to leave the group. End of chapter one....
But only the start of chapter two as the 'Negatives' develops into the 'Mysterious Footsteps' to become Bradford's first White Dread Rock Beat Band (see separate page for this band). 'Dave' starts new band called 'The Negativz' (see separate page for this band)
Tino Palmer

15 October 2000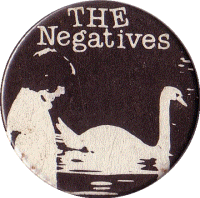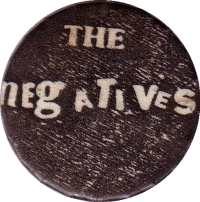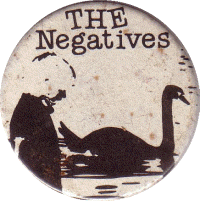 Above are three original badges from the late 70s.

(Thanks to Johna)
Also thanks to George Thackray
©Detour Records